G'day folks! Mick from IT has hooked up this thing now so I can can write to you all, how good's that?
Look, thanks heaps for the support for our launch, we know The Bureau has been copping it a bit in the media lately for the rebrand, so we hope we can demonstrate how it can be done a bit better. I mean, look how far we got with just Old Mate here doing the weather and Mick doing the computers! I reckon we can bring this whole project in for under a couple of grand.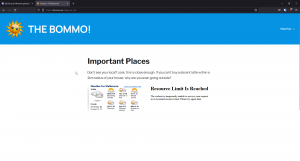 We can't deny we've had a few surprises though. Our forecast pages are complaining about reaching a "resource limit" sometimes as shown in this screenshot received from young weather enthusiast Brendo who reached out this morning.
Not super sure what resources we're using there (Gina, can you advise?) but Mick reckons he can sort it out soon. Just try again later if you see that.
If you already know what the weather is though, please help us out and don't visit The Bommo again today. Ask a mate if they know what the weather is instead. Someone nearby probably does, you'd be surprised! Maybe you'll make some new friends!
Wouldn't that be nice?